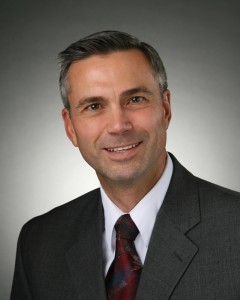 On behalf of the Board of Directors, management,
and employees of Mid-Central Federal Savings Bank,
I would like to take this opportunity to welcome you to
our website.
As a small community savings bank, Mid-Central is able to provide timely, personalized service, putting our Customer's needs first by creating and delivering innovative and competitive banking products and services. We can do this because we have exceptional employees who take pride in meeting new challenges and providing excellence. Our employees continue to be well trained to deliver state of the art products and superior services.
Mid-Central has a reputation as a leader in the industry. The reputation is based on our ability to deliver new banking systems and provide the latest technologies for our customers. The constant growth and development of our website is one more step in our continual commitment to keep you informed and to serve our communities and our customers in these changing times.
In the wave of business acquisitions and bank mergers, we are committed to remaining independent. This independence allows us to continue a long standing tradition of providing personal and friendly service involvement in our local communities and achieving superior financial performance for our stockholders.
As we reflect on the past year, and embrace a new year, we convey our gratitude to caring neighbors and communities.
Please let us know how we can make banking a more convenient and enjoyable experience for you. We are pleased to serve you.
Sincerely,
Gary Sellman, President and Chief Executive Officer
Bank Officers
Gary Sellman, President and Chief Executive Officer
Robert Iken II, Executive Vice-President
Kenneth Katzenberger, Treasurer and Chief Financial Officer
Janice Aagard, Secretary
Guy Blaske, Vice-President
Mary Kobliska, Vice-President
Mike Palmer, Vice-President
Board Members
Randall Beinhorn                 Robert Iken II                Dr. Wyman Jorgenson       Dr. Timothy Neitzke
Duane Polman, Jr.                Gary Sellman