Mobile Banking
Users of FIS Mobile Banking can enroll and activate their accounts directly on their mobile devices. This process begins with the user downloading the Mobile App to their device. Note: Customers must be enrolled in the internet banking product with an existing username and password to enroll in mobile banking. How do I download my mobile banking application? For iPhone or iPad:
Navigate to the App Store
Search for Mid Central National Bank
Select "Install" to download the application
For Android:
Navigate to the Google Play Store
Search for Mid Central National Bank
Select "Install" to download the application
Once users have downloaded and started the App, enrollment begins with logging on to the App with a User ID and Password. Activation takes place after this enrollment through a series of security measures designed to prevent fraudulent access to accounts. Activation is designed to register a device and tie it to a particular account thus "activating" the device. The security process is called the Out-of-Wallet process. Both enrollment and activation are necessary to establish a secure banking environment. Every time a user logs into their account, the software automatically checks to see if this ID, password, and device are typical for this account. This Advanced Login Authentication is a vital part of the move to provide a secure environment for mobile banking customers and meets FFIEC recommendations. To enroll, users should follow these steps: Step 1: Start the App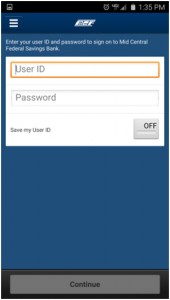 Step 2: Once the App has successfully launched, the sign on screen appears. Enter your login credentials. Select Continue.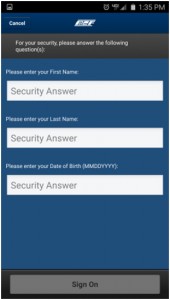 Step 3: Security questions appear. Users answer various questions. Select Sign On.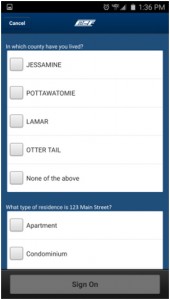 Step 4: The "Out of Wallet" quiz appears. Select answers to the questions given. Select Sign On.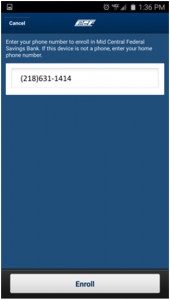 Step 5: The "Confirm Mobile Phone Number" to be enrolled screen appears. Enter phone number. Select Enroll.             Following this you will be logged into the Mobile Banking system and have access to your accounts.